In response to the situation described in the s
tory below by BOB STUART, bstuart@newsvirginian.com, from the News Virginian
, local chicken advocates have organized.
Farmer and author Joel Salatin says the industry won and farmers lost.
"What happened tonight is a special protectionism to the industry that the citizen then has to be dependent on the industry and can't extricate ourselves in liberty to be self-reliant," Salatin said. "I would suggest that people do it anyway. They're not going to take us all to jail. I would encourage civil disobedience. I think it worked well for Henry David Thoreau and I think we're in a day where we need to practice some civil disobedience."


So in response to help out Augusta friends, the Shenandoah Valley Poultry and Garden Club is offering to let any August resident that would like to "Chicken sit" to keep 4 hens. It they get busted they can honestly say that they don't own the chickens and the flock-ette isn't living there—just visiting. The Rockbridge Feather Fanciers will relocate the flock—no problems. This information comes from Pat Foreman, author of
City Chicks,
testifying before the board in the photo below.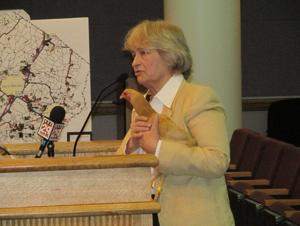 VERONA — Augusta County Supervisors rejected an ordinance Wednesday that would have allowed the keeping of backyard chickens in rural residential and single family residential districts.
Supervisors voted 5-2 against the ordinance with only Supervisors Marshall Pattie and Tracy Pyles supporting it. Supervisors who opposed the ordinance expressed concerns about the threat of disease to commercial poultry operations. Augusta County is a major poultry producer, and many of its farmers supply commercial poultry companies.
Middle River District Supervisor Larry Wills said he also was concerned about the burden of the increased chicken presence on the county's animal control operation. "It will put a tremendous burden on animal control," Wills said.


Wayne District Supervisor Jeff Moore said poultry is a major employer across the Shenandoah Valley.
"I can't support (the ordinance)," said Moore, who spoke of the potential impact on jobs.


Concern from most supervisors was linked to fear of the birds contracting the avian flu and potentially spreading the disease. But unless these backyard chickens came into contact with a bird from the commercial flock, there would be no way for that to take place. Additionally, after the outbreak of bird flu in Virginia during 2002, the U.S. Department of Agriculture makes an effort to monitor poultry flocks in commercial operations.


Pyles said chickens are permitted in about 95 percent of Augusta County, including areas zoned for agriculture. He said the ordinance considered Wednesday night would have offered benefits to people. "They are not as noisy as dogs," said Pyles of chickens. He also said chickens can be a source of food, and can provide some of the same recreational benefits as gardens. "It's a productive and useful hobby. I don't see any downside to it," he said.


Augusta County is one of the few municipalities in the area that doesn't allow backyard chickens of some type in residential neighborhoods. Waynesboro has an ordinance allowing the birds, as does Charlottesville.


A parade of speakers during a 90-minute hearing on the ordinance offered support for the ordinance.

Among the speakers was Carleen Layman, a Waynesboro resident who has backyard chickens at her residence. "I want my friends in Augusta County to have them," she said.